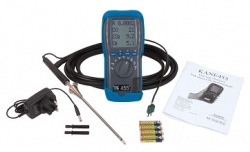 KANE - the best solution for flue gas analyser
19.03.2018
Distek provides complete solutions for Flue Gas Analyser.
Since 1963, Kane International Ltd has been in Welwyn Garden City, Hertfordshire, and has a long history and broad experience designing and manufacturing portable test equipment.
Kane International is the UK's foremost manufacturer and supplier of hand-held exhaust emissions testers and portable test equipment. Kane's design, engineering and manufacturing skills have created a range of highly sought-after portable equipment meeting the highest standards of testing and conformity. Their customers range across Commercial and Domestic Heating Engineers, Automotive Technicians to Electrical Engineers.
Products are marketed under KANE's range of brands and for numerous 'private label' companies.
KANE has specific competence in:
Electrochemical sensors;
Infra-red benches;
Data logging;
Low power electronics;
Portable battery powered equipment.
KANE stocks a wide range of Alpha standard calibration gases and all our gas products are calibrated using 'live' test gases.
The KANE Service Department provides repair and Certification with traceability to National Standards. UKAS certification is also available.